Honors News & Events
The first step before going abroad is securing a U.S. passport. Therefore, the Honors College and Education Abroad are sponsoring Passport Day: a one-stop-shop to help you get a head start on your study abroad adventure! The US Department of State Washington Passport Agency will be on hand to personally process your passport application. What do you need to do? While you are home for Thanksgiving break, locate required documents such as a certified copy of your birth certificate. All of what you will need to apply for a US passport is located on our website (www.honors.umd.edu/passport.php) and the US Department of State travel website (www.travel.state.gov). It's convenient, easy, and all in one stop! Register for an appointment to process your passport application at www.honors.umd.edu/passsport.php. Click on the Registration Form link to register. Slots will be filled on a first come, first served basis and registration will close Friday, November 29. Questions: contact Ms. Traci Dula at 301-405-6771 or tdula@umd.edu.
---
We are so proud of University Honors student Deana Parris, who is a USA Gymnastics National Team member and wants to participate in the 2016 Summer Olympics. Check out her story. We're cheering for you, Deana!
---
Northrop Grumman CEO Wes Bush Launches ACES

On Sept. 25, the University of Maryland and Northrop Grumman launched the Advanced Cybersecurity Experience for Students (ACES) program, the nation's first cybersecurity honors program for undergraduates.
Supported by a major grant from Northrop Grumman, the newest Honors College living-learning program is designed to educate future leaders in the field of cybersecurity through rigorous, hands-on learning experiences, an intensive interdisciplinary curriculum, collaborative projects, and professional insight from industry and business leaders. The four-year program will give them the opportunity to collaborate and work closely together as they pursue their advanced program of study in cybersecurity.
Wes Bush, CEO, Chairman and President of Northrop Grumman said, "Not only does the ACES program represent an innovative approach to education, it addresses the shortage of cyber professionals that are in high demand by industry and government."
Also in attendance were University of Maryland President Wallace Loh, University System of Maryland Chancellor William E. ("Brit") Kirwan, the inaugural ACES cohort of 57 students, University of Maryland faculty, staff and students, and representatives from government and industry.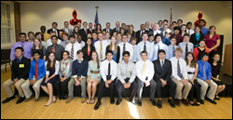 Dean Donna Hamilton hosted the launch party, at which many key campus players in the run-up to the launch of the ACES project were recognized, including Vice President for Research Patrick O'Shea, fellow Deans Jayanth Banavar and Darryll Pines, MC2 Director Michael Hicks, and Honors College Executive Director William Dorland.
"Not everyone is a cyber-warrior, but we must acknowledge that cybersecurity is everyone's responsibility," said Christian Johnson, a freshman computer science major, to the audience of more than 200. "The ACES program is a 'call to action' for developing and sustaining our future cybersecurity capabilities to protect the institutions and advancements that move America forward."
Kristen Pellicot, a freshman criminology and criminal justice major, noted the impact the ACES program will have on the world. "Our future depends on our ability to secure our information in a way that is guided by ethical and moral standards," she said. "Today, we celebrate our ability, as mere 18- and 19-year-olds, to address this issue and to contribute to the critical solutions necessary for our collective welfare."
The ACES Program serves as an inaugural Regional Workforce Project of The Business-Higher Education Forum (BHEF), a national organization of Fortune 500 CEOs and research university presidents dedicated to improving U.S. competitiveness through innovative education and workforce solutions. USM Chancellor Brit Kirwan chairs the group, and Wes Bush of Northrop Grumman serves as vice chair.
"The University of Maryland gets it when it comes to partnering with businesses," said Bush.
---
UMD, Parsons Partner to Help Produce Future Cybersecurity Professionals

The Honors College and Parsons have partnered to provide academic scholarships to current and future Honors College students.
---
Professor Gregory Staley appointed Honors Humanities Director
We are pleased to announce that Professor Gregory A. Staley has been named the new director of the Honors Humanities Living and Learning Program, one of seven Honors College living and learning programs. This program is jointly sponsored by the Honors College and the College of Arts and Humanities.
---